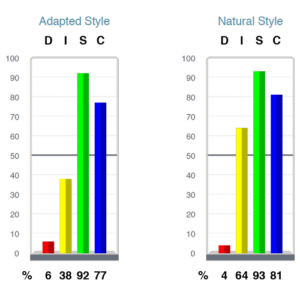 DISC is the most widely used assessment of a person's behaviors. This assessment, from TTI Success Insights, gives a rich view of the person's behaviors from multiple perspectives.
DISC looks at the individual's behaviors along four dimensions:
Dominance: How the person responds to problems and challenges.
Influence: How the person influences others to his or her point of view.
Steadiness: How the person responds to the pace of their environment.
Compliance: How the person responds to rules and procedures set by others.
Further, the DISC assessment from TTI Success Insights looks at the individual's natural style – how they behave in their most comfortable environment – as well as their adapted style – how they behave in the work environment.
The DISC assessment is an essential element in the TriMetrix  HD assessment suite.
Along with other elements of the assessment suite, DISC is an important tool in individual coaching as well as understanding communications styles for building stronger team relationships.
Common Uses:
Team-building workshops.
Leadership Development.
Other skills development processes.
_______________
Custom Solutions
This website gives only a glimpse into the wide range of assessments and development processes available from Friend and Champion.
Discover precisely how we can empower you and your organization to achieve success.
Achieve your success without compromise.