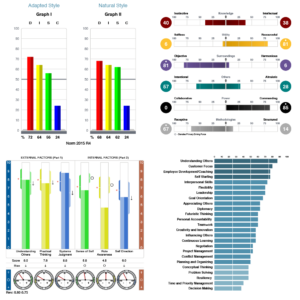 Every human is multi-faceted. The ability to clearly understand an individual depends on looking carefully at the person from multiple perspectives. TriMetrix® HD is the tool for gaining that understanding of the person.
TriMetrix® HD provides a 55-point analysis that uncovers a person's behaviors (DISC), driving forces, acumen, and unique competencies.
TriMetrix® HD examines the behaviors individuals bring to the job, the driving forces that drive them, the ability to demonstrate the competencies required by the job and whether they possess the acumen to perform the job successfully.
Common uses:
Assist in executive coaching.
Candidate selection.
Development of high potential employees.
_______________
Custom Solutions
This website gives only a glimpse into the wide range of assessments and development processes available from Friend and Champion.
Discover precisely how we can empower you and your organization to achieve success.
Achieve your success without compromise.